Magnifico

A fine collector' gun, the name of which draws inspiration from Lorenzo "il Magnifico", a connoisseur of art and beauty. Quality finishes and selected walnut woods come together to celebrate the Renaissance, and to give life to a precious blend of style and technological detail. The engraving, a perfect fusion of classic and modern, tells the story of the flight of an anatid in a delicate sequence of detailed frames. The receiver, which derives from the timeless Executive, is completely hand-polished, just like all the internal elements. Il Magnifico introduces significant technical solutions, such as the fore-end disassembly system, in the same style as the finest tilting, and the folding bolt handle. The safety is engraved and knurled by hand and its position, located on the top and to the back of the receiver, is elegant and easy to operate. The barrel, made from special steel, has a tapered rib with an arabesque engraved by hand, as well as the special burnishing and polishing of the barrel are done by hand.
GAUGE
12
CHAMBER
76 mm
BARRELS AND CHOKES
28"/70 cm with **/IM fixed choke
RECEIVER FINISHING
Stainless steel with gilded hand engravings, polished blued upper receiver with gold details
STOCK AND FORE-END
Oil finish grade 5 walnut wood
STOCK LENGTH TRIGGER MEASURED / DEVIATION
360 mm
MAGAZINES
Tubular with 2-round limiter (without limiter: 3 rounds 12/76 mm or 4 rounds 12/70 mm)
WEIGHT
3.100 g
PACKAGING
Exclusive leather case, snap cap, cleaning kit, Ben oil, user and maintenance handbook
The technical features and images on the web site are purely approximate, can be improved and / or changed at any time without notice.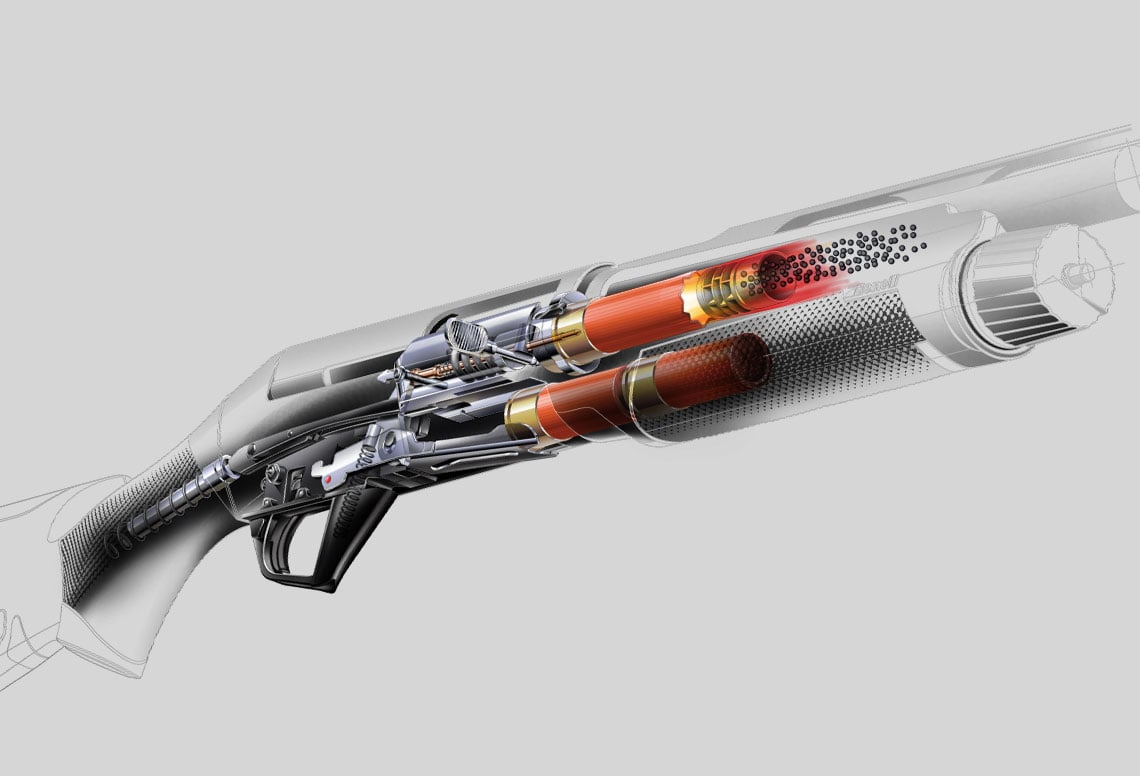 Rigorous design, simple construction, easy maintenance and mechanical accuracy guarantee maximum durability and extreme reliability. The cleverness of the Benelli System lies in its rigorous design, simple construction and ease of maintenance. The fast, minimised operating movements combined with mechanical accuracy and essential construction ensure an unaltered working cycle that is perfect every time, maximum strength and utmost reliability.