The M4, historical semi-automatic of the Benelli range, is also available in the M4 T-Pro brown version. The brown colouration in Cerakote is resistant to external agents and is a distinctive feature of the M4 T-Pro brown. The particular telescopic pistol grip stock allows, by pressing a special button, to vary the length of the weapon. This semi-automatic shotgun is available with a 47 and 35.5 cm barrel with a tank tube with 4 shots and 6 shots respectively. The M4 T-Pro brown is equipped with an adjustable ghost ring sight, a fixed front sight and a piccatinny rail on the receiver as well as a rail on which you can set up different types of accessories in addition to the optics to fully exploit the aiming of the weapon.
GAUGE
12
CHAMBER
76 mm
BARRELS AND CHOKES
35.5/47
RECEIVER FINISHING
Anti-reflective, matt black anodised Ergal
STOCK AND FORE-END
Telescopic stock in black technopolymer and multi-rail fore-end in black ergal
STOCK LENGTH TRIGGER MEASURED / DEVIATION
360mm Adjustable
MAGAZINES
35.5 Barrel version: tubular 2 shot (without reducer 4 (76); 5 (70) 47 Barrel version: tubular 2 shot (without reducer, 6 (76); 7 (70)
WEIGHT
3.800 g
PACKAGING
Drop variation kit, user manual and spare parts, Ben oil.
The technical features and images on the web site are purely approximate, can be improved and / or changed at any time without notice.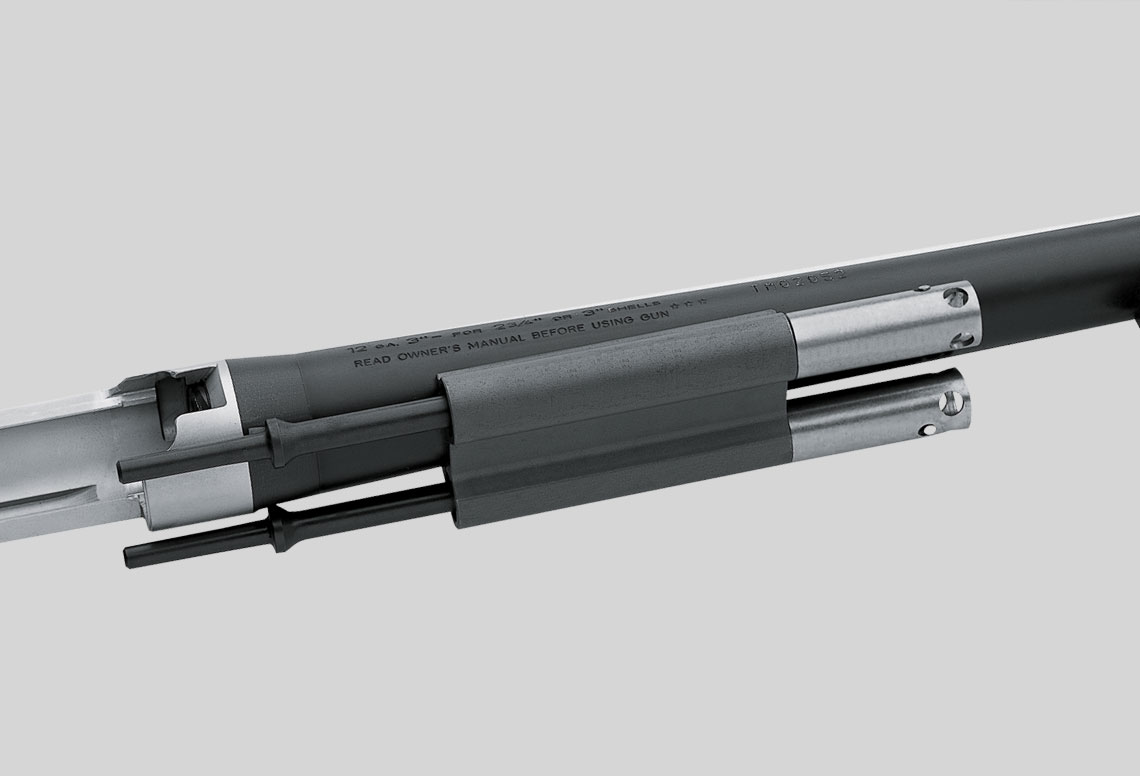 Simple, robust, original, clever: these are the peculiarities of the project underlying the A.R.G.O. patent: : A.R.G.O. stands for Auto Regulating Gas Operated. Made of a self adjusting gas system containing a short-stroke piston, A.R.G.O. is placed under the barrel, near the chamber, so as to exploit the hottest gases at a higher pressure. The gases tapped from the barrel expand (in the self adjusting gas system) and rapidly accelerate the stroke of the piston, which simultaneously hits the bolt follower pin and pushes it hard to enough to make it retract. It is self-regulating because the gas inlet valve functions as a regulating valve that expels excess gas during firing. The greater the volume of gas flowing from the barrel, the faster the pin valve opens and allows it to exit, thus decreasing the pressure inside. Self-adjusting, A.R.G.O. guarantees shooting precision, reliability, durability and confirms the technological excellence of Benelli. An operating mechanism that is also appreciated and approved by the Marines.