Raffaello Accademia

The Raffaello Accademia is an exclusive limited series produced in 1000 units. The exquisite engraving is the result of the collaboration between Benelli and Urbino's Academy of Fine Arts. Through the studies of young artists, we have managed to synthesise the greatest elements of Italian heritage, regional culture and innovation. All this is expressed in the image on both sides of the firearm, constructed and conceived as a single great work capable of rendering both the front and the back of the scene to the observer. This shotgun's innovative concept is further enhanced by Be.ST technology, the exclusive finish that gives the barrel an elegant total black colour.
GAUGE
12
CHAMBER
76 mm Magnum
BARRELS AND CHOKES
CB - Interchangeable choke - BE.S.T. Power Bore 65/70 cm */**/***/****/cyl.
RECEIVER FINISHING
Ergal, nickel-plated and decorated
STOCK AND FORE-END
Oil finish grade 3 walnut, stock with Progressive Comfort system
STOCK LENGTH TRIGGER MEASURED / DEVIATION
365 mm ± 2 mm, modifiable to 380 mm ± 2 mm with long butt plate or to 350 mm ± mm with dedicated stock with Progressive Comfort Kit. Cast: variable, LH and RH
MAGAZINES
Tubular with 2-round limiter (without limiter 3 rounds 12/76; 4 rounds 12/70)
WEIGHT
approx. 2,900 g with 70 cm barrel
PACKAGING
Technopolymer case, drop and cast change kit; kit of chokes and wrench, quick-release sling attachment swivels, Ben oil, use and service handbook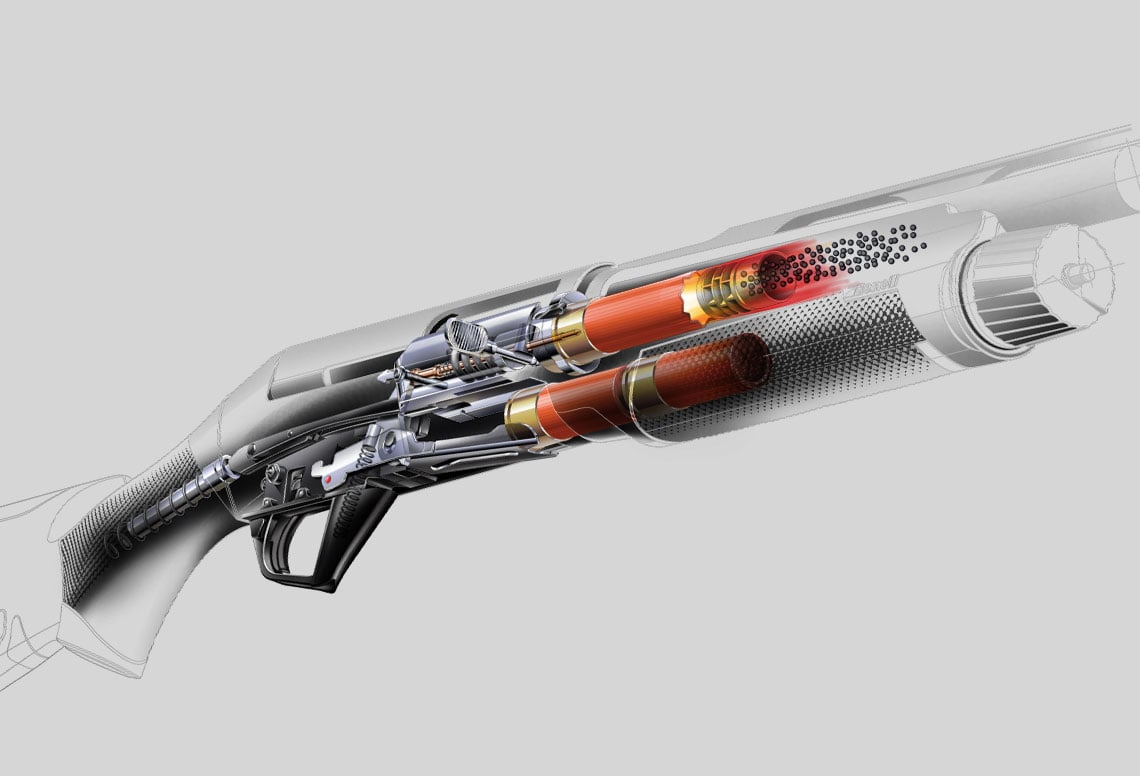 Rigorous design, simple construction, easy maintenance and mechanical accuracy guarantee maximum durability and extreme reliability. The cleverness of the Benelli System lies in its rigorous design, simple construction and ease of maintenance. The fast, minimised operating movements combined with mechanical accuracy and essential construction ensure an unaltered working cycle that is perfect every time, maximum strength and utmost reliability.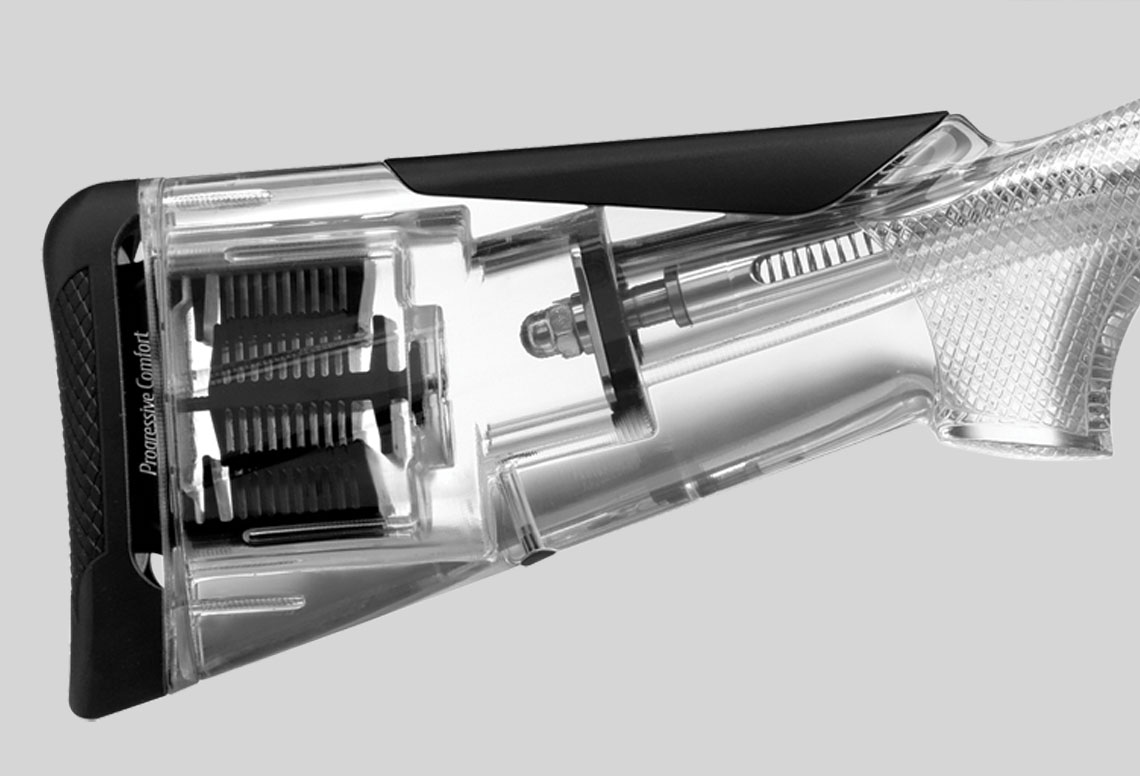 The innovative progressive recoil absorption system kicks in gradually according to cartridge and ammunition loading. This is the true essence of comfort, an invisible, yet highly sensitive system.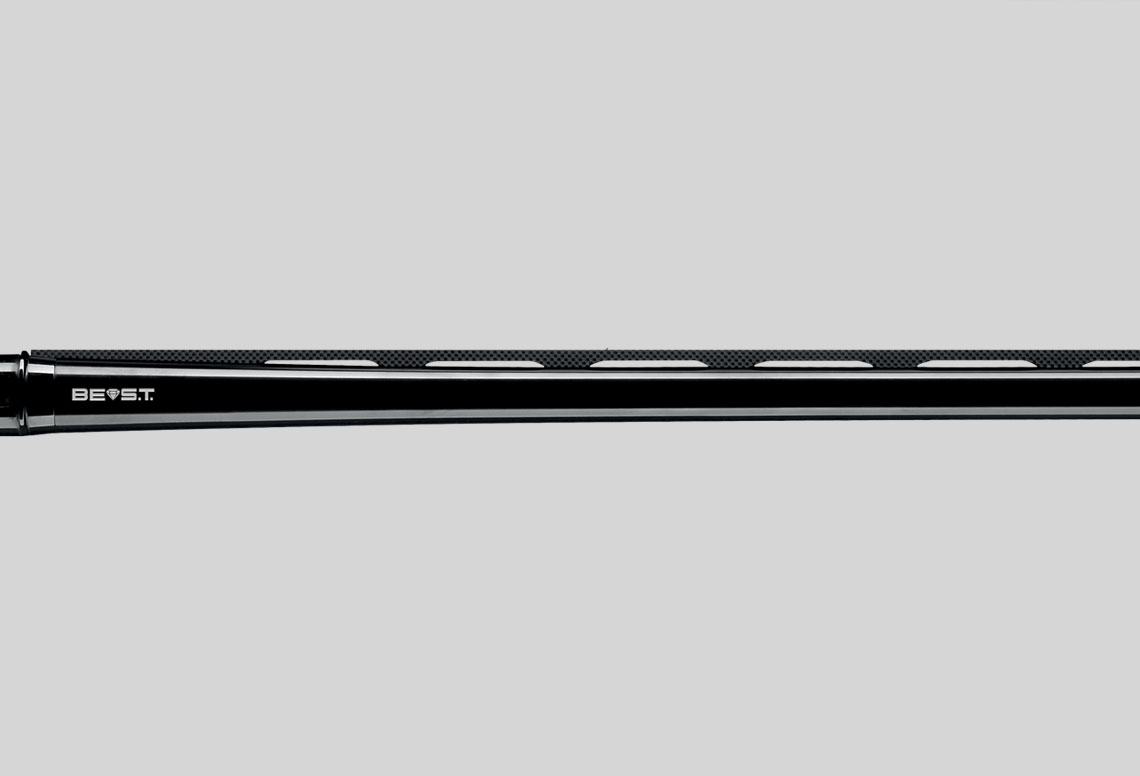 BE.S.T. is an exclusive Benelli technology to guarantee maximum resistance to corrosion, abrasion, wear and the elements. BE.S.T. surface treatment uses cutting-edge hybrid technology, covered by trade secret. The coating has characteristics similar to those of a diamond when it comes to hardness, resistance and precious finish. BE.S.T. is completely eco-friendly, since the process used involves no dangerous emissions for the environment.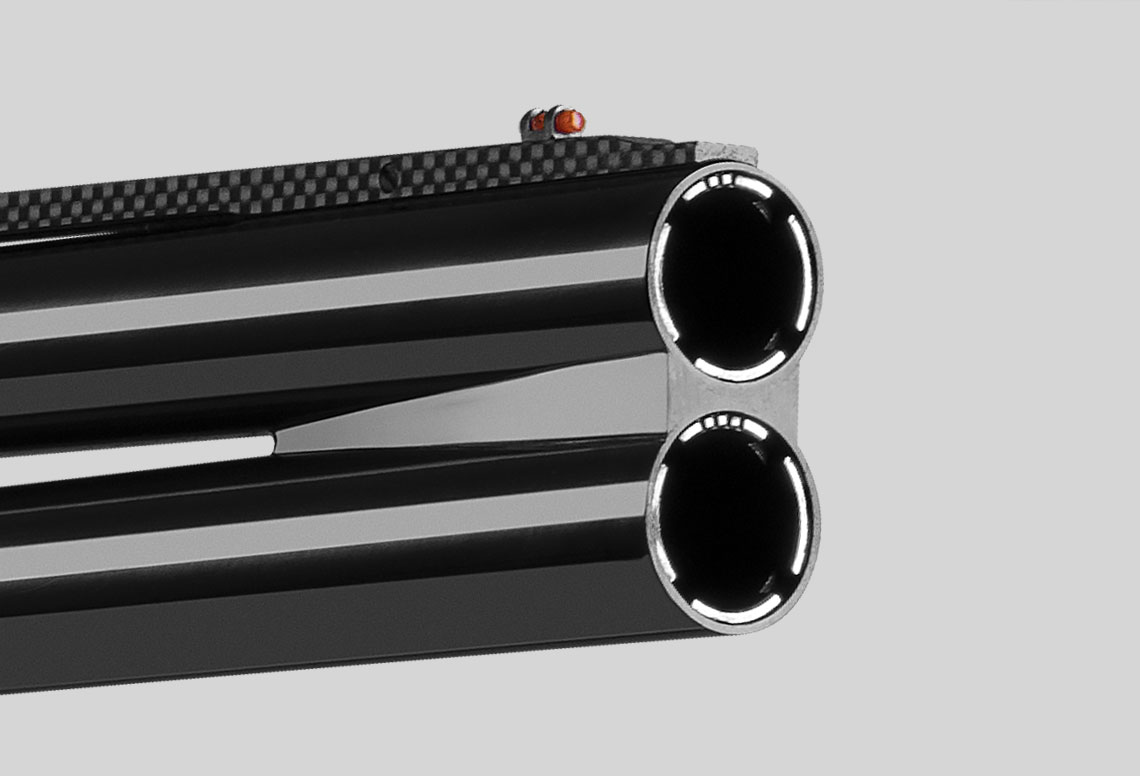 The Power Bore cryogenic barrel with selected bore and very small diameters ensures greater speed and target penetration. Power Bore Crio: the ideal bore for a perfect hit and to be sure you'll never miss the target.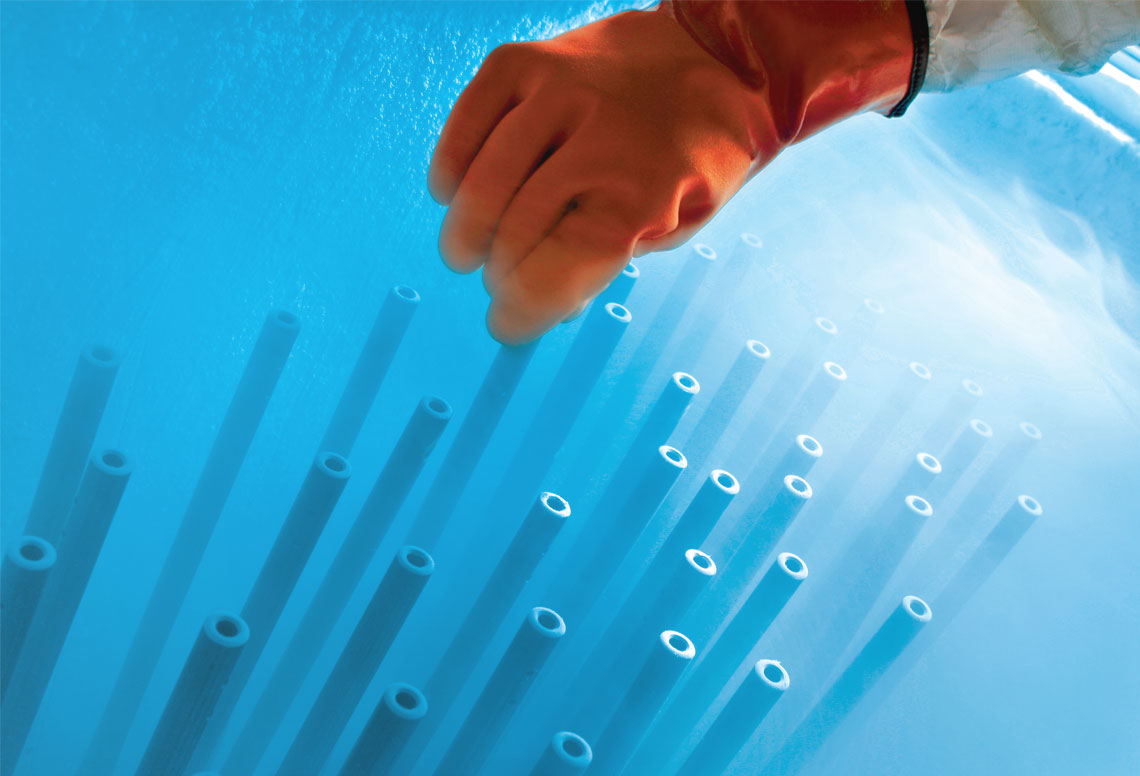 In cryogenic technology, the first element you need to consider is the barrel. The expansion caused by friction heat and pressure is limited, so that the barrel can vibrate and expand evenly on firing. The pattern provided by a cryogenic barrel is wider, more regular and more uniform, with pattern centres that will not shift as you fire shot after shot, to the benefit of shooting accuracy. Cryogenic treatment also has positive effects on the life of the barrel, which is more resistant to wear and less susceptible to attack by combustion residues. Benelli was the first company to apply Cryogenic Treatment to the barrel and choke of a light firearm on an industrial scale in order to enhance its ballistic performance.